Apprenticeships
This module will focus on breaking the myths, where to search for apprenticeships, real life stories, what employers are looking for and how to write a successful application. There are 5 steps and each of these will focus on some key learning objectives, an activity and reflection for students to participate either at home or in school. Each step is 20 minutes.
Get started by watching these videos
Up Next, follow along with the activities below
In order to gain a good knowledge of apprenticeships, there are 5 steps you can take to improve your understanding. We have provided an activity to follow under each of the 5 areas. Trying these activities could help you feel more confident about making a decision on whether an apprenticeship is right for you.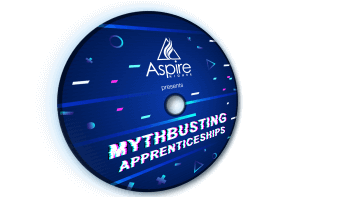 Give us your feedback
Click here to complete this short survey.  All your feedback is helpful and we use it when planning our next activities.
Take Survey
Additional resources
For Students
RateMyApprenticeship videos – Watch now
Meet the employer Chloe Tayler GSK Degree Apprentice – Watch now
Study Higher / Aspire Higher Apprenticeships webinar – Watch now
Levels of Apprenticeships – Watch now
The A-Z of Apprenticeships – Watch now

Apprenticeship Videos – Eryn Blount : Watch now

Apprenticeship Videos – Jodie Fogell : Watch now

Apprenticeship Videos – Samantha Ross :

Watch now

Apprenticeship Videos – Tayla Blackman :

Watch now