Aspire Higher and Study Higher present a webinar series for Teachers and Advisers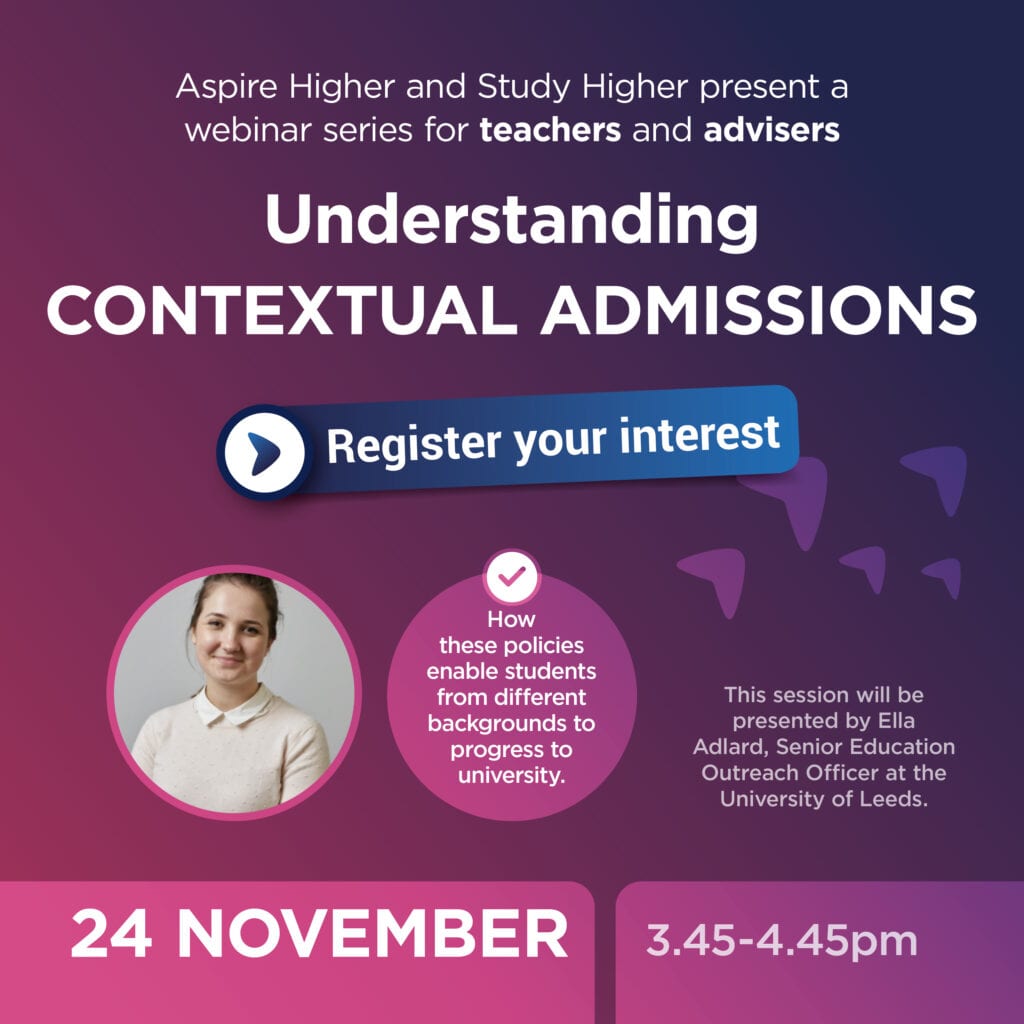 Understanding Contextual Admissions
On 24th November we held our first joint webinar.  The session explained how contextual admissions enable students from different backgrounds to progress to university. It was presented by Ella Adlard, Senior Education Outreach Officer at the University of Leeds and attended by 18 institutions across our consortia. The video is available for those who missed the event.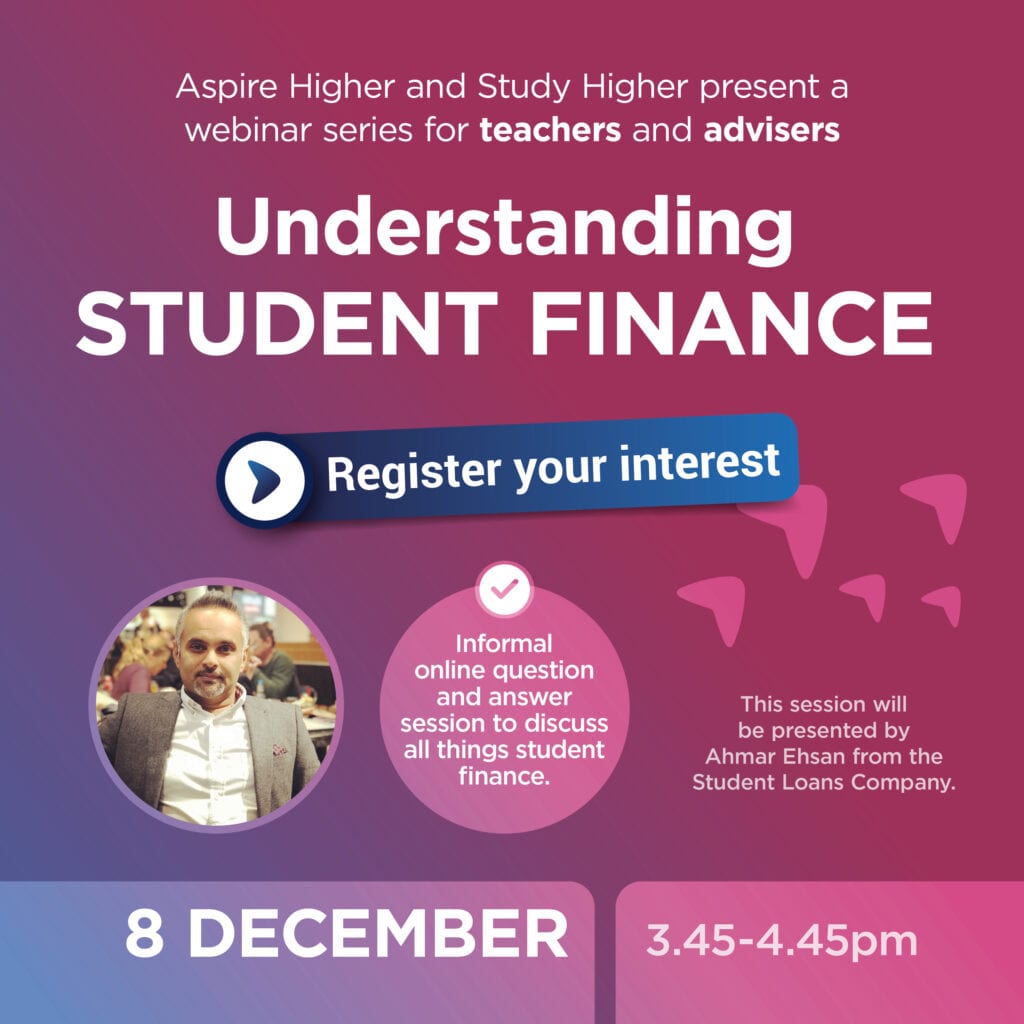 Student Finance
On 8th December from 3:45 to 4:45 pm we held our second webinar.  The session explained student loan applications and what support teachers and advisers can give their students to ensure that they are prepared well in advance. It provided a general overview of Student Finance and tailored to school staff and some parents present.  It was presented by Ahmar Ehsan from the Student Loans Company.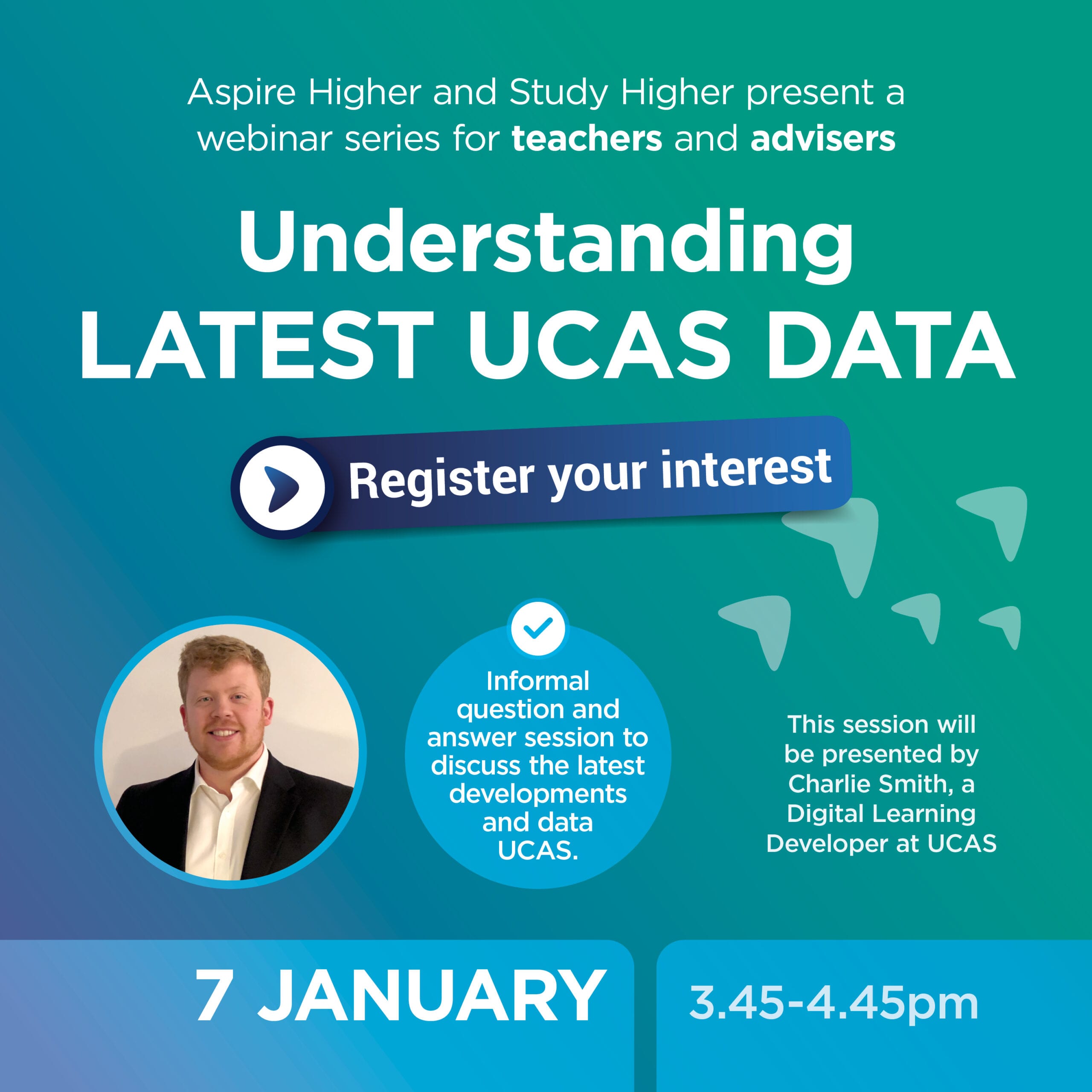 Understanding UCAS Data and Developments
On 7th January from 3:45 to 4:45 pm Charlie Smith, Digital Learning Developer from UCAS delivered this webinar.  The session covered different resources for teachers to support their students and changes to reference guidance for 21/22. He looked at how COVID continues to impact admissions plus gave teachers and advisers an opportunity to ask UCAS any questions.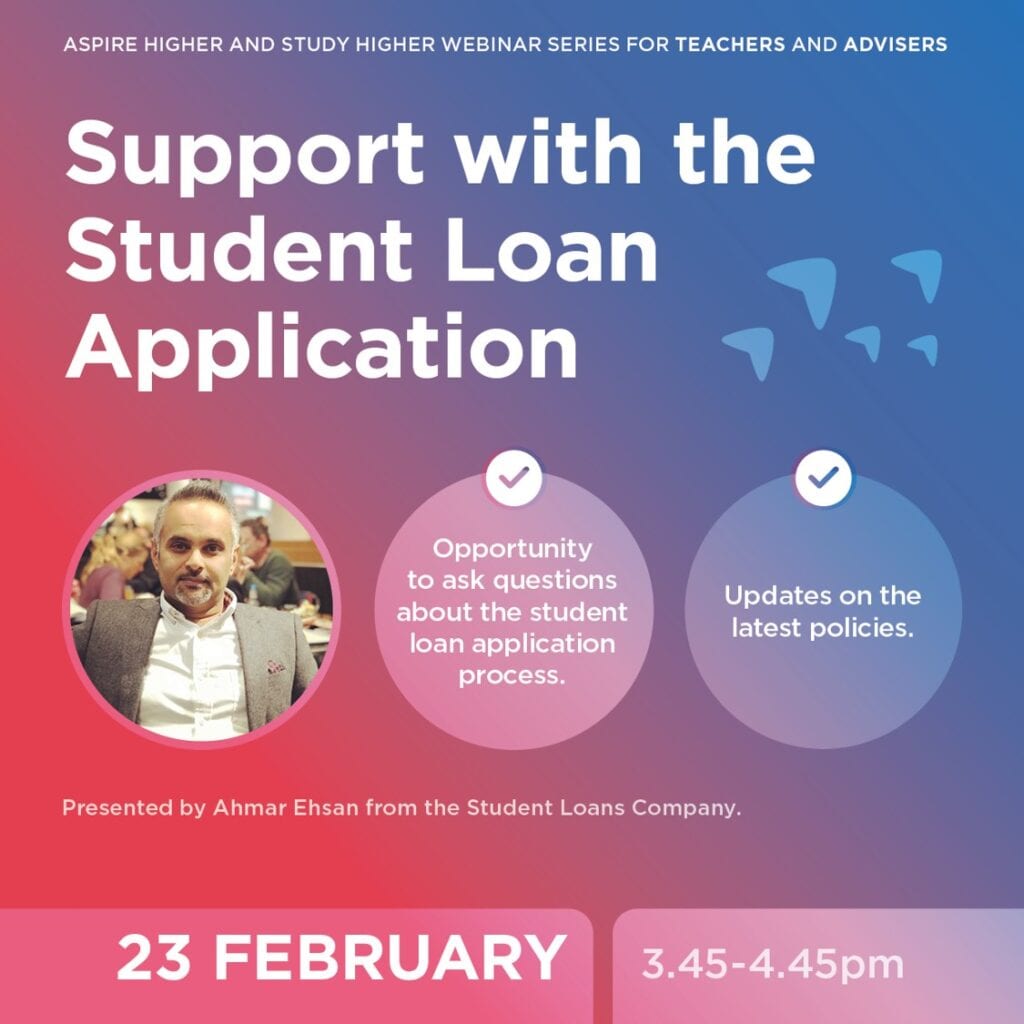 Support with the Student Loan Application
On the 23rd February 2021 Ahmar Ehsan from the Student Loans Company delivered a policy update on Student Loan Applications and provided answers to audience questions. The session provided more detailed information on policy that was relevant to teachers and advisers helping students complete their student loan applications.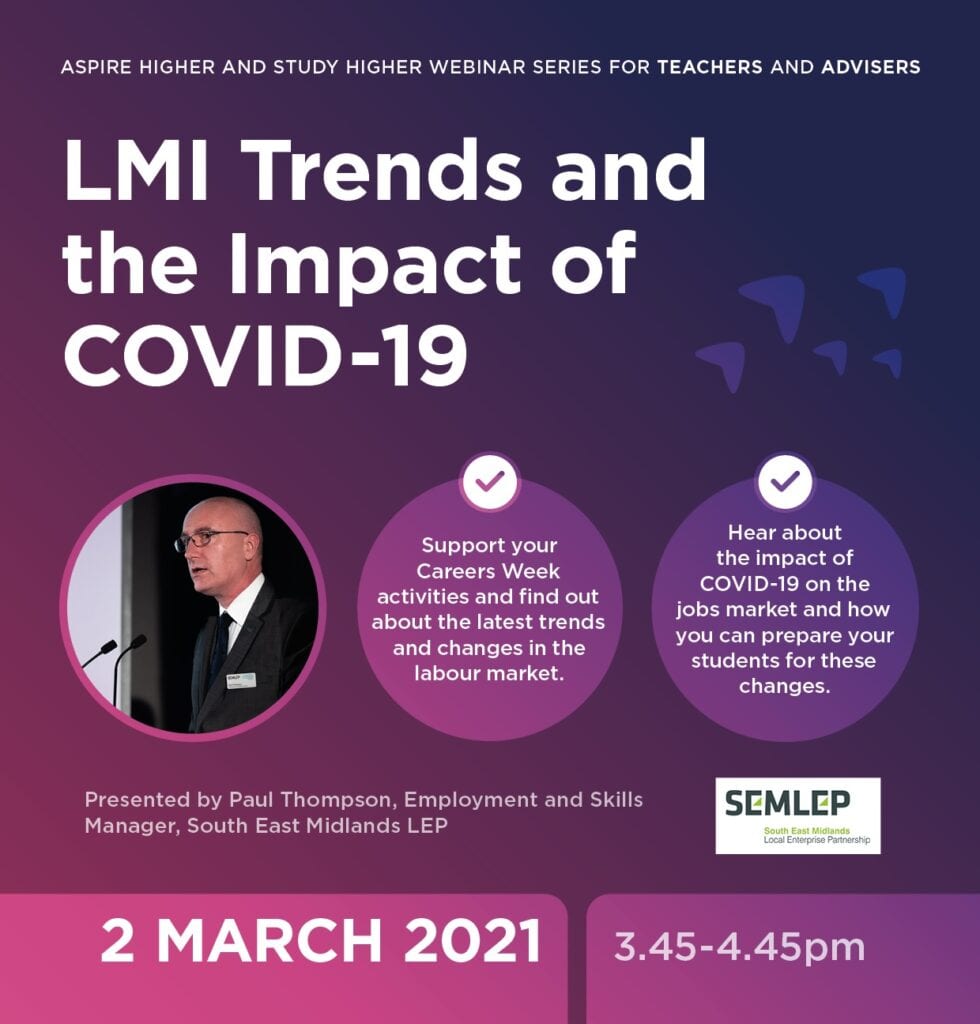 Labour Market Information Trends and the Impact of COVID-19
On 2nd March Paul Thompson, Employment and Skills Manager for SEMLEP presented a webinar discussing labour market information, current trends and how these have been effected by COVID-19. Discover the latest trends and changes in the current climate and how these trends can be used to facilitate stable, quality and relevant careers guidance for young people.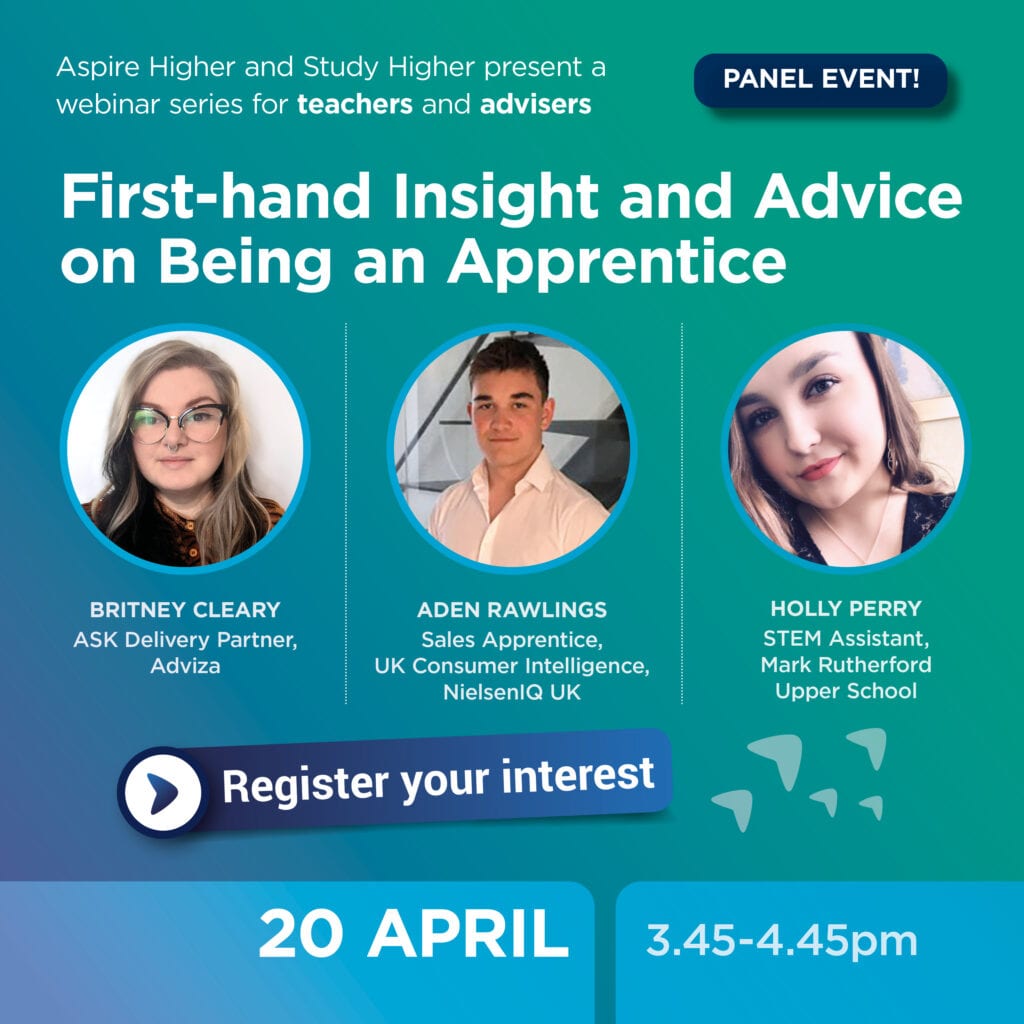 Insight and Advice on Being an Apprentice
This webinar held on 20th April 2021 features current apprentices and an apprenticeship provider to give first hand accounts of what it is like being an apprentice and top tips on what employers are looking for from apprenticeship applicants. Watch this to see how you can better support students interested in pursuing an apprenticeship.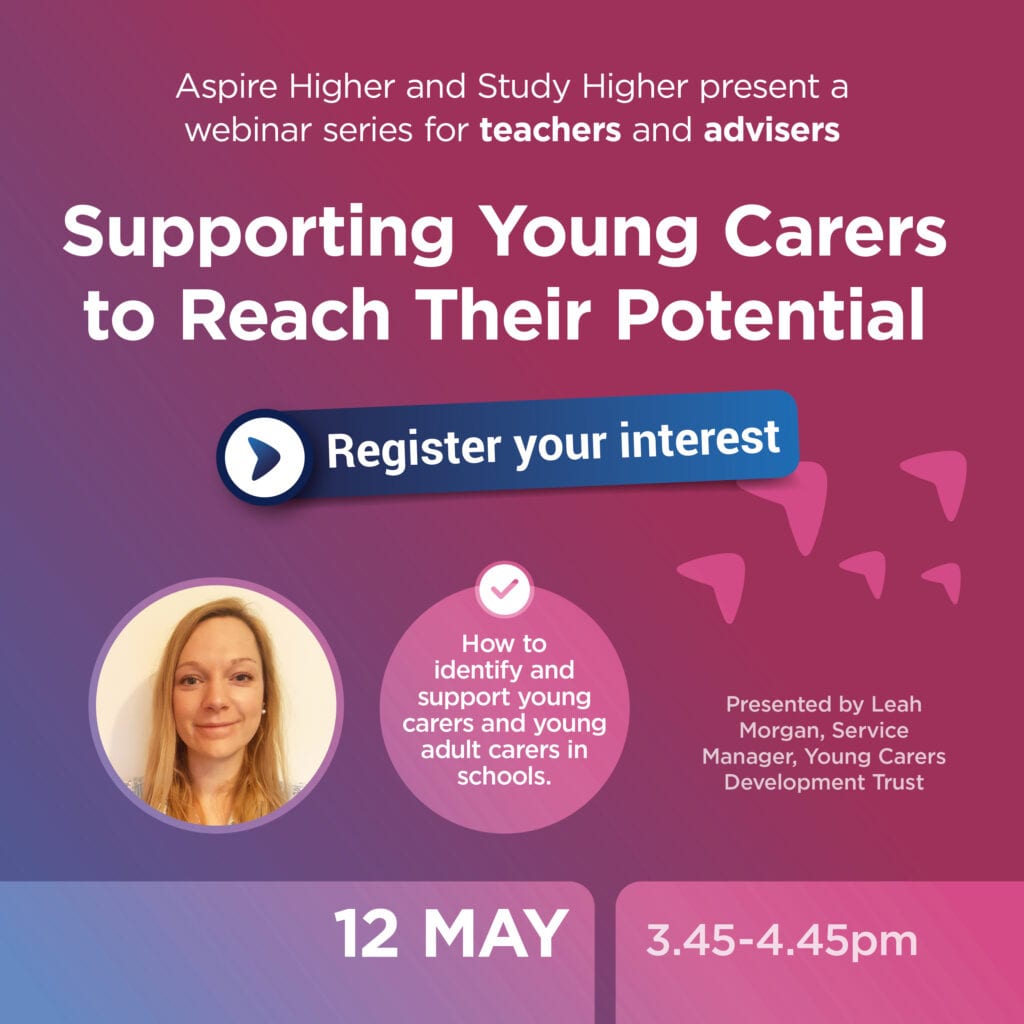 TEACHER & ADVISER WEBINAR: SUPPORTING YOUNG CARERS TO REACH THEIR POTENTIAL
On 12th May Leah Morgan, Service Manager from the Young Carers Development Trust presented this session offering advice and guidance in how to identify and support young carers and young adult carers in schools. Including how staff can help young carers they work with to aim high and reach their potential.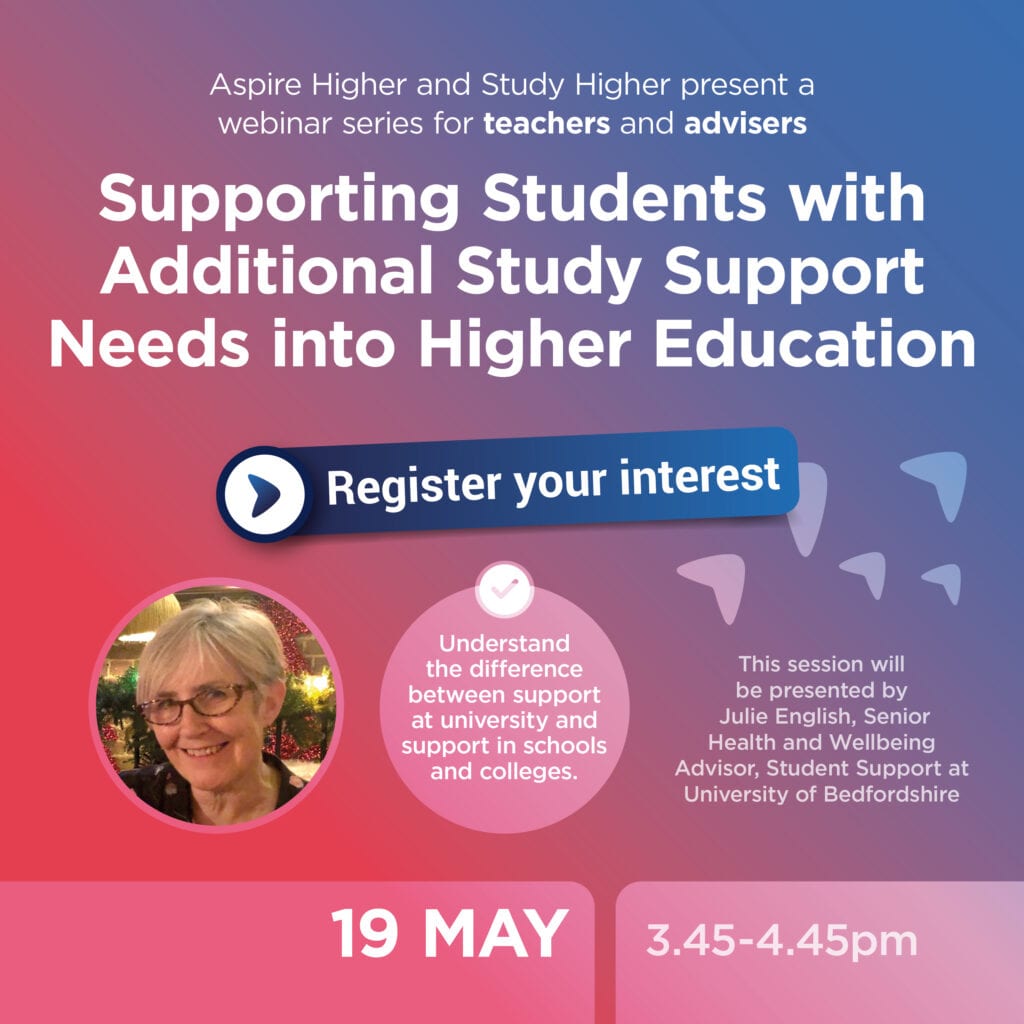 Supporting Students with Additional Study Support Needs into Higher Education
On 19th May Julie English, Senior Health and Well Being Officer, Student Support at University of Bedfordshire, presented a webinar on supporting students with additional study support needs in Higher Education. Understand the difference between support at university and support in schools and colleges. Learn how SENCOs, Teachers and Advisers can prepare and support learners with additional study support needs with the transition into university
This session will be particularly useful for SENCOs and Careers Leads.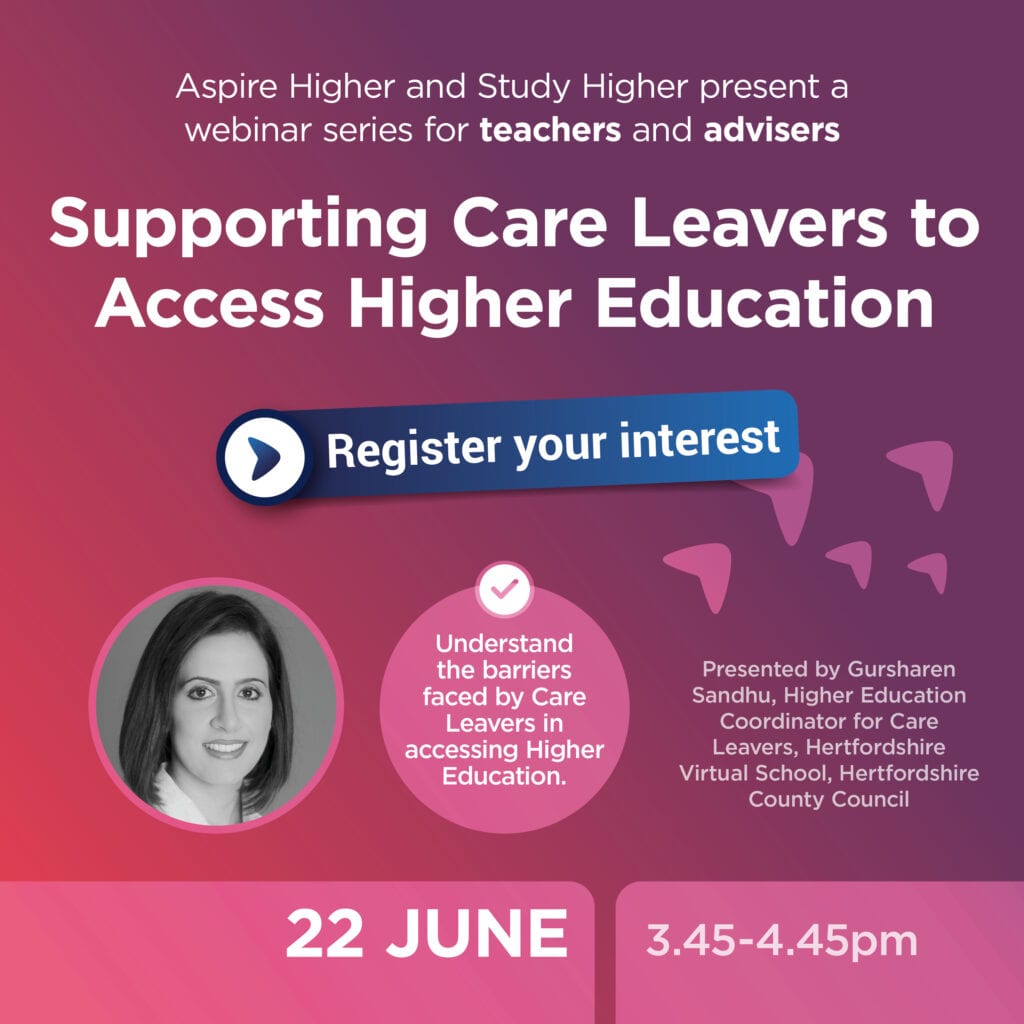 Supporting Care Leavers to Access Higher Education
Join us on 22nd June for a session with Gursharen Sandhu, Higher Education Coordinator for Care Leavers at the Hertfordshire Virtual School, Hertfordshire County Council.
In this session we will look at some of the barriers and challenges faced by Care Leavers in accessing Higher Education opportunities, and help support you in understanding how to better support Looked After Children you work with in their educational journey.
SUPPORTING SERVICE CHILDREN – THRIVING LIVES TOOLKIT VIRTUAL TRAINING CONFERENCE FOR SCHOOLS
On 8th and 23rd June Aspire Higher and Study Higher bring you two online webinars on Supporting Service Children, delivered by Service Children's Progression Alliance Oxfordshire and Central England Hub. The sessions will inform participants about the Thriving Lives Toolkit. You will hear about the seven principles of effective support, the SCiP alliance's UK wide Hub Network and how to utilise the Thriving Lives Toolkit. The second session will explore more deeply the context of service children in Aspire Higher and Study Higher regions and allow participants to reflect on best practice.
UCAS Extra and Decision Tips
Find out everything you need to know about UCAS Extra, decision making and tips on other options to be aware of. In this video Charlie Smith, Digital Learning Developer from UCAS will give information to support your students. To receive the accompanying PDF please email Aspirehigher@beds.ac.uk
UCAS Parent and Carer Q and A Webinar
This webinar presented by Charlie Smith, Digital Learning Developer for UCAS explains the UCAS application process to parents and carers. To empower parents and carers on how to support students to make successful applications.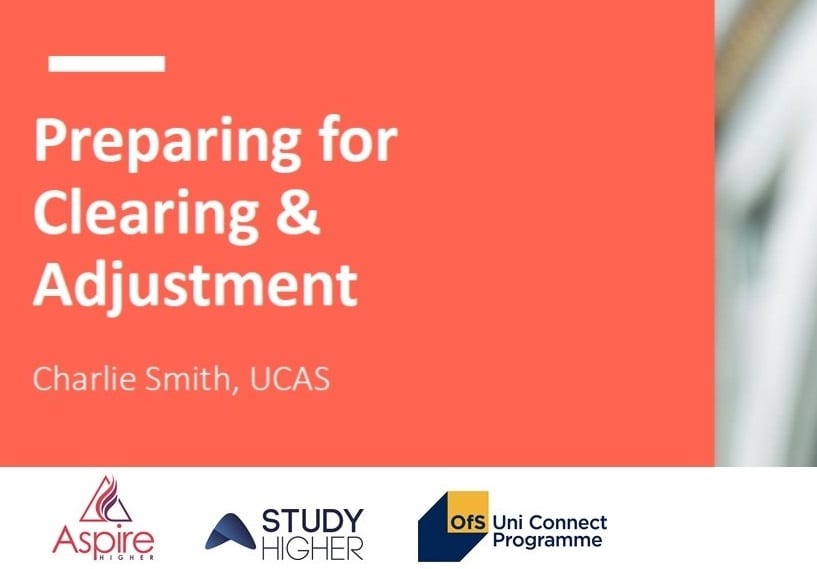 UCAS Clearing and Adjustment 2021
On June 25th this video was created as part of Aspire Higher and Study Higher joint Teacher/Adviser CPD programme. It is presented by Charlie Smith from UCAS and explains the current 2021 Clearing and Adjustment procedures.  To receive the accompanying PDF please email Aspirehigher@beds.ac.uk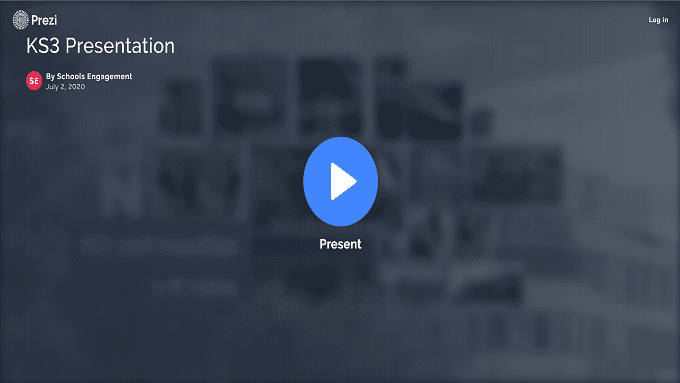 Transition To Higher Education Staff CPD
This is a copy of a staff face to face CPD training session we offer. It can be used to develop staff confidence and awareness of the higher education landscape, to enable class teachers and form tutors to have more in-depth conversations with KS2, 3 and 4 children. Explanatory notes to support the presentation are available on request from samantha.mckay@northampton.ac.uk.
Other Events You Might Be interested in
Considering recent government advice, we have taken the decision to postpone all face to face events and activities scheduled to take place for an indefinite period in order to reduce the spread of Covid-19.
We are creating online activities and additional online resources to support school staff in delivering home learning.  Keep checking our website for more updates and sign up to our newsletter to get the most up to date information.
Please get in touch and let us know how we can support you and your students.